MAZZER SUPER JOLLY - MATT BLACK
Regular price
$ 24,750.00 MXN
Regular price
$ 27,750.00 MXN
Sale price
$ 24,750.00 MXN
Unit price
per
Sale
Sold out
Open Box - Never used 
The Mazzer Super Jolly is one of the most well-known Mazzer grinders. Its grind quality, ease of use, and durability make it the premier choice for many small to mid-sized cafes.
Features
Electronic grinder-doser with flat blades suitable for medium consumption.
Available in single phase version only.
Stepless micrometrical grinding adjustment.
On-demand grinding with electronic dose adjustment.
Single and double dose with independent adjustment.
Digital display with shot counter.
Hand tamper and support for tamping are included.
STEPLESS MICROMETRIC GRINDING ADJUSTMENT
Stepless micrometric grinding adjustment.
FLAT BURRS
Flat burrs 100% Made in Italy By Mazzer.
DURABLE AND ECO-FRIENDLY
Built with premium materials like stainless steel, aluminum, brass, and copper, to make it not only durable but also easy to recycle and eco-friendly.
Use: on demand
Version: electronic
Power: 350 watt
Grinding adjustment: Stepless micrometrical grind adjustment
Burrs: flat
Standard Burrs: 233M
Diameter standard burrs: Ø 64mm (2 1/2 inches)
Weight: 14 kg (31 lbs)
RPM: 1400 rpm @50Hz | 1600 rpm @60Hz
Body: aluminum die casting
Hopper capacity: 1.2 kg (2.7 lbs)
Optional hoppers measures: 320 g hopper | 600 g hopper
Output: medium-low
Extraction method: espresso
Recordable time settings: 2
| | mm | inches |
| --- | --- | --- |
| A | 195 | 7 3/4 |
| B | 240 | 9 1/2 |
| C | 263 | 10 1/2 |
| D | 420 | 16 1/2") |
| E | 212 | 8 1/4 |
| H | 610 | 24 |
| H hopperMINI 0.6 kg (to be ordered as spare part) | 540 | 21 ½ |
| H hopperMINI 0.32 kg (to be ordered as spare part) | 500 | 19 ¾ |
| H hopperJOLLY 1.2 kg (standard) | 610 | 24 |
| H hopperMini 1.1 kg (to be ordered as spare part) | 585 | 23 ¼ |
| H hopperCilindric 1.8 kg (standard fitted upon request) | 585 | 23 ¼ |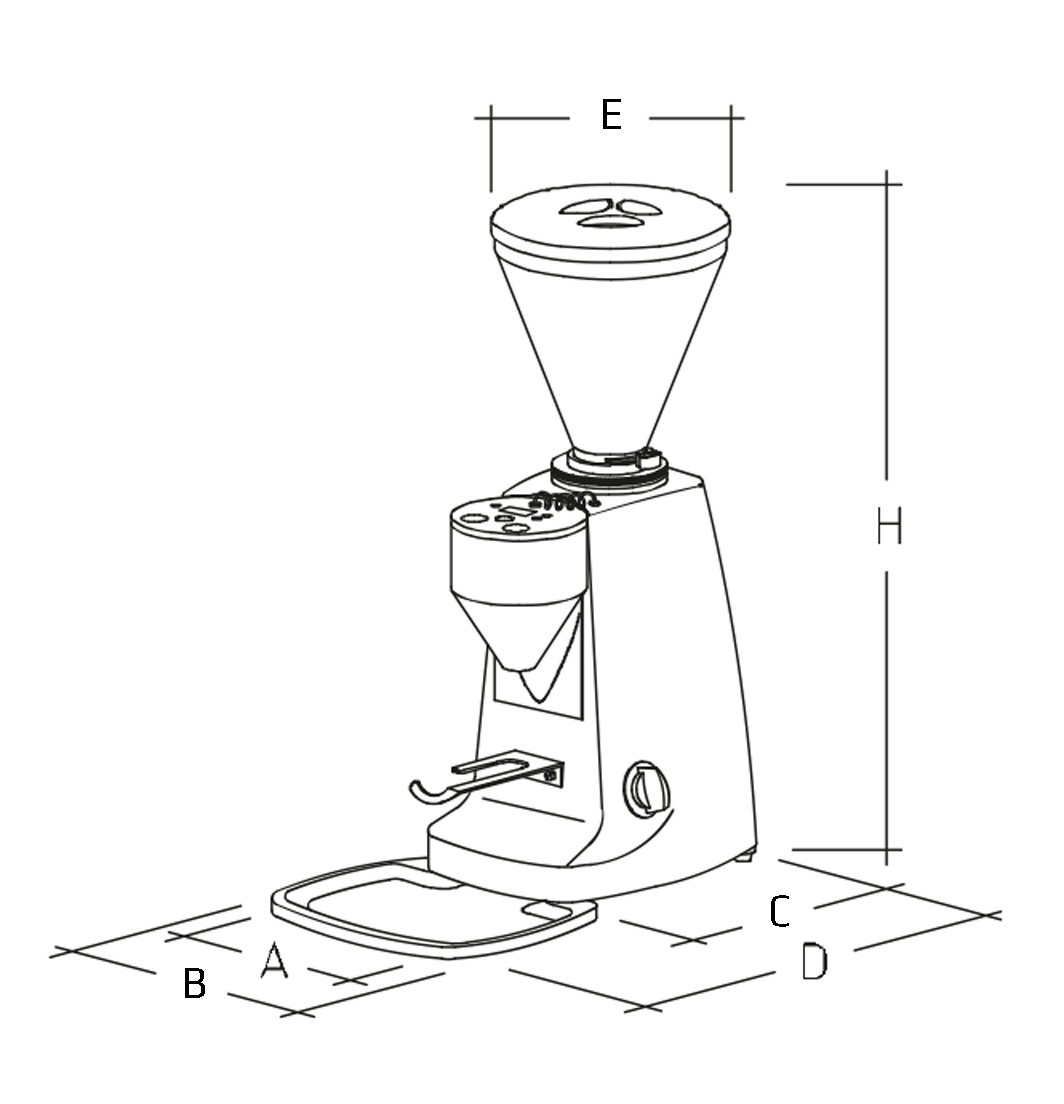 Share